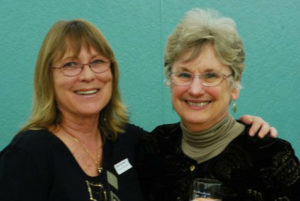 We have a unique core group of passionate people with concerns about  local groundwater management and how it  affects you.
Jane Nielson
Professional (retired?) Geologist Jane Nielson represents SWiG to the Sonoma County Water Coalition and sits on the Santa Rosa Plain's Groundwater Management Panel. She collects water pumping data from Sebastopol and Sonoma County's Water Agency, and keeps the SWiG Community connected.
Janus Matthes
Small organic food farmer and sustainable farming activist for many years, Janus Matthes connects SWiG to the issues and concerns of small farmers.
Rue Furch
Former Sonoma County Planning Commissioner Rue Furch has deep knowledge of both water issues and how the County works. She keeps us abreast of issues and advises on how to aim position statements and letters.
Nan Waters
Recording secretary Nan Waters works tutoring Santa Rosa Junior College students in chemistry, physics, and math. Her other life is raising Dachshunds and leading the Doxie section of Sebastopol's annual Apple Blossom Parade.
David Noren
David Noren works full time as a licensed water quality professional. For SWiG, he measures well water levels around Sebastopol in spring and fall, to monitor changes in ground water conditions. He also serves as a Governor's appointee to the North Coast Water Quality Control Board.